Perklist provides a better way to communicate with your customers
Communication is key to any great relationship, but small businesses often find it challenging to figure out the best channel for timely and effective communication with their customers. Personal email inboxes are notorious for being cluttered and full of spam, and SMS regulations are constantly changing to ensure consumers are protected.

Perklist offers simple, and flexible, tools and capabilities that enable authentic communication with your customers. Group messaging tools can be used to update customers on news, events, specials, and more. Individual messaging tools are completely personalized and allow you to send pictures, videos, and individual messages letting your customers know their relationship is important. You can find these features under the Messaging section in the top navigation bar.





Guest notifications: Perklist provides a flexible notification tool that can send messages to all guests, specific categories, or a specific guest. Within the Messaging page, admins can choose whether to send a notification to an individual or a group. Group messaging is great for news and general announcements, while individual messaging can be used for more tailored offers or personalized interactions.

To message an individual, simply search their name to locate their account. Once selected, you can attach images, videos, or enter your text to send to the guest. Once sent, the guest automatically receives a notification and can view the message.

To message a group, select the group option and choose whether to message all guests or a specific category. Guest categories can be found by going to your Profile > Status Options.





Two way messaging: Our Standard Plan allows you to choose which guests have the option to send you inbound messages and respond to questions from you and your staff.

Have you ever texted a favorite guest to encourage them to stop by during a slower time? Or given out your personal number to regulars and received texts about reservations or special requests? Perklist offers a great tool that supports these scenarios, but consolidates these messages into a single platform that can be shared across multiple staff members.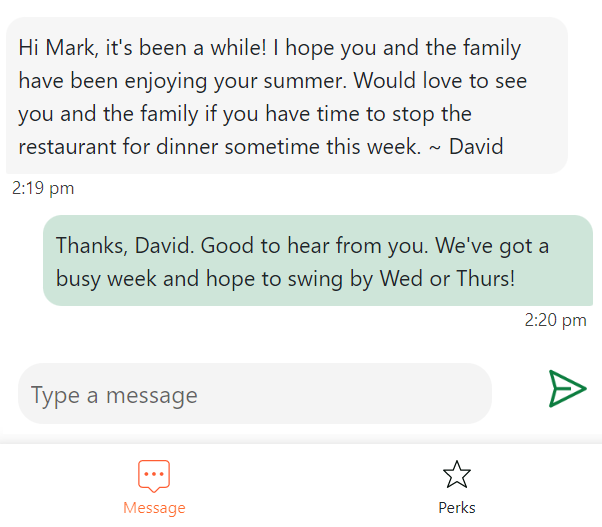 You can enable this perk and choose which guests have access by going to your Perks page and viewing the "Two way messaging" perk. From here, edit the sharing options to choose which guests have access before enabling this perk.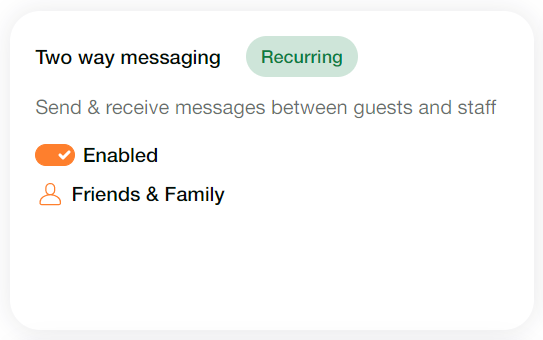 Perklist offers these personalized messaging capabilities that can enhance or replace your existing marketing and communication channels. To learn more or schedule a demonstration, please contact our team at support@perklist.com.